Live streaming, better results with DVE
Live streaming, it's now more in demand than ever.
Sure, you can do it yourself, fumble around, using your iPhone or a one-man-band teenager with a handheld camera… but what if we told you that inevitably, the result is poor and not flexible. We can create a live event for you, with professional-quality vision and audio.
At Digital Video Experts, we have been live streaming since it started over 10 years ago. We have invested in our own equipment and software, so we can easily setup a reliable live stream from pretty much anywhere.
We can provide one, two, three or more cameras, switching, professional lighting and staging. We can do it all and the results are outstanding every time.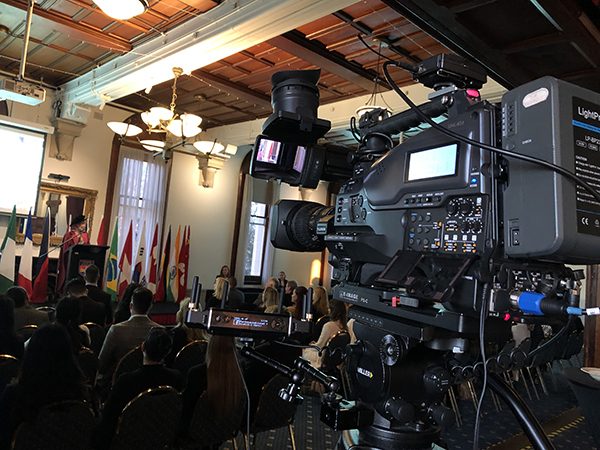 A peak behind the scenes…
One camera Vox Pops
What's involved: 1 camera, 1 microphone, 1 crew
What's the setup: Our camera crew has the camera on the shoulder and follows your interviewer around. We capture 'on-the-go' interviews and behind the scenes which are streamed to your social media (Facebook is usually preferred as engagement is instant).
Where have we used this: SMACC Conference (5 days), Lifeline's Bobbo Cycle event, ICMS awards nights.
What you should budget for: from $1k
Sit-down interviews
What's involved: 1 camera, 1 microphone, 2 lights, 1 crew
What's the setup: At your event, we setup a couch or 2 chairs. Your interviewer interviews delegates, presenters, sponsors in this interview setup. This setup is usually done in a corner of the lounge room, in view of your conference delegates, as this creates a bit of a buzz. We stream to your choice of platform, such as YouTube, Facebook or website.
Where have we used this: SMACC Conference, ICMS Awards Nights, Blue Mountains Hotel School Graduations, Telstra Awards and more…
What you should budget for: from $3k
Conference – 1 camera
What's involved: 1 camera, 2 microphones, 1 crew
What's the setup: We setup one camera, on a tripod, at the back of the room of your conference, with a lapel microphone on the speaker and live stream it. This option does NOT include the streaming of any powerpoint slides that are used by your presenter. We have 2 microphones, so you can use one as an audience Q&A microphone.
Where have we used this: ICMS Awards night, DET internal training sessions, SMACC conference.
What you should budget for: from $3k
Multi-camera live event
What's involved: 1, 2 or more cameras, multiple crew including camera operators and vision directors
What's the setup: Usually, a conference has 2 cameras at the back of the room (one wide locked off and one tight) then possibly a wide audience locked-off camera from the front. Why not have a Q&A camera so we can see the face of people asking questions? We also capture your powerpoint slides and add it to the mix. This is powerful and looks amazing, not just on screen but the setup always blows the minds of our clients!
Where have we used this: ICMS Graduations, Blue Mountains Hotel School Leadership Speaker Series, Bell Shakespeare, NSW Education, FanForce, Wollongong Uni and more…
What you should budget for: from $6k
Now add 'in-room' sound
What's involved: 2 or more loudspeakers, 1 sound desk, wireless microphones, handheld microphones, 1 sound operator
What's the setup: Some venues include the 'in-room' sound amplification (also called A/V). If it does, great, we just grab a sound feed from them and all good. If it doesn't, we bring extra gear and people. We make sure the audio is heard in the room as well as in the live stream. Our great soundie tech ensure each speaker is ready with microphones and volumes are set properly.
Where have we used this: ICMS Graduations, Blue Mountains Hotel School Leadership Speaker Series, Bell Shakespeare, NSW Education, FanForce, Wollongong Uni and more…
Just ask us
What's involved: a phone call to the DVE Team (02) 8959 3024 (choose option 1)
What's the setup: We can chat over the phone or I can come to meet with you. If you're unsure, just ask and we will explain it.
Where have we used this: With all our clients. We love face-to-face too, so let's chat.
Testimonials
I manage the content marketing division across the 28 magazine brands of Yaffa Media and have used Digital Video Experts on a number of projects and can't speak highly enough of their creativity, professionalism and willingness to take total ownership of projects to produce brilliant results. These guys are just great to work with, so enthusiastic and so professional, they simply can't help but get the very best out of all situations. They really are a joy to work with and If you get a chance to use their unique skills don't pass it up.
I have been dealing with DVE for almost 10yrs, Richard & Recky are without doubt the most professional production company you could deal with. After entering the video space in its infancy, 2 guys and an over the shoulder camera marched into my house and filmed my 35th birthday. By my 40th, they managed to produce a 2hr movie of my life and not long after, they managed to get my Lamborghini to fly straight down Macquarie Street. These 2 and there now larger team truly understand the difference between excellent and outstanding. You won't be disappointed.
Richard and Recky are the consummate professionals they are lovely genuine warm super caring. They listen they deliver they care. With their combined experience my video clip was astounding. In this industry you may only have the one chance the one opportunity for that right captured moment. DVE you can trust to find this. They have equipment I have never seen before lighting drones many staff and a huge studio I was invited to visit and watch my finished product there. These guys are the real deal. I would highly recommend this company. My business proudly uses and will use again digital video experts. The name is really what they are.
The guys at DVE are absolutely awesome to deal with! They've always exceeded our expectations and their professional dedicated attitude really makes a difference. Highly recommend their services.
Professional, dedicated and fun to work with. Richard and his team go above and beyond your expectations. They have recorded and edited two conferences for us. We were so impressed with the quality of the work as well as the ease in organising it. They are true professionals.
These guys are brilliant at their work. If you need any sort of video editing done then I highly recommend them. They will go the extra mile for you. Professional, courteous and a pleasure to deal with.
Fantastic work – have been working with the team for many years and have only had positive, professional and prompt experience!
Richard and his team have produced a fabulous company video for our business. I would strongly recommend then for your next company video. Doug Surmon (Talbot Automatic Doors and Gates)
Look professional in front of thousands
Broadcast your next event to huge audiences via Facebook, LIVE. Connect with all your viewers and engage in real-time with live questions and answers. Perfect for panels!
Two or more cameras for on-the-spot editing
We switch live between multiple cameras live at the event. The result is just like a TV show!
Small or large production
We can tailor the equipment up or down, depending on your requirements and budget.
Get $ for your content
Let us show you how to monetise your content. We can make your live-stream accessible only to people who pay, with a simple Paypal account.
We're happy to answer any questions, any time
Drop in for a chat